Of course it does not have
a real V8 engine,
but it sure feels like
it packs the same power!
CHF 119.90
instead of 149.00
Raclette fun for the whole family
For A. + J. Stöckli AG, 1969 was a great moment in the company's history, from which all Raclette connoisseurs have benefited to this day. This Swiss family business introduced the first electric Raclette portion oven over half a century ago. The Stöckli Raclette oven for cheese was patented in 1967, before its market launch.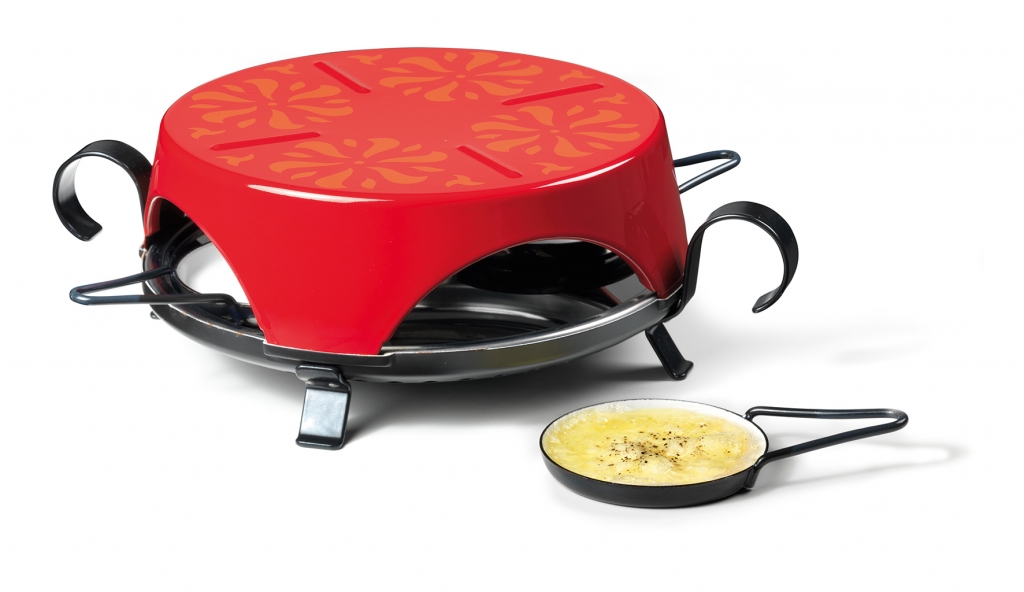 The inventor
With this innovation, Stöckli was the pioneer of this new method of preparing Raclette and its invention marked the beginning of a completely new product category. More than 50 years later, Stöckli Raclette ovens for cheese continue to be popular with a whole range of innovations. Even today, Stöckli is considered by experts as the top specialist in Raclette, Fondue and PizzaGrill.
Fast and easy preparation
If you enjoy inviting friends over for Raclette and are not sure how many will show up, the Stöckli "TwinBoard" is your answer. The basic appliance can easily be extended by up to four additional appliances, so that up to ten persons can enjoy the delicious melting cheese or a grill together. Used pans are best kept on the practical resting tray.
Innovative
The innovative technology provides free choice in how you connect the devices. The twin boards can either be directly connected with adapters, obtaining a compact series of appliances in a row, or they can be connected with a flexible cable. This way, the Twin Boards can be arranged in the form of a circle or rectangle – very practical for round tables, so that all the guests can easily reach their own pans.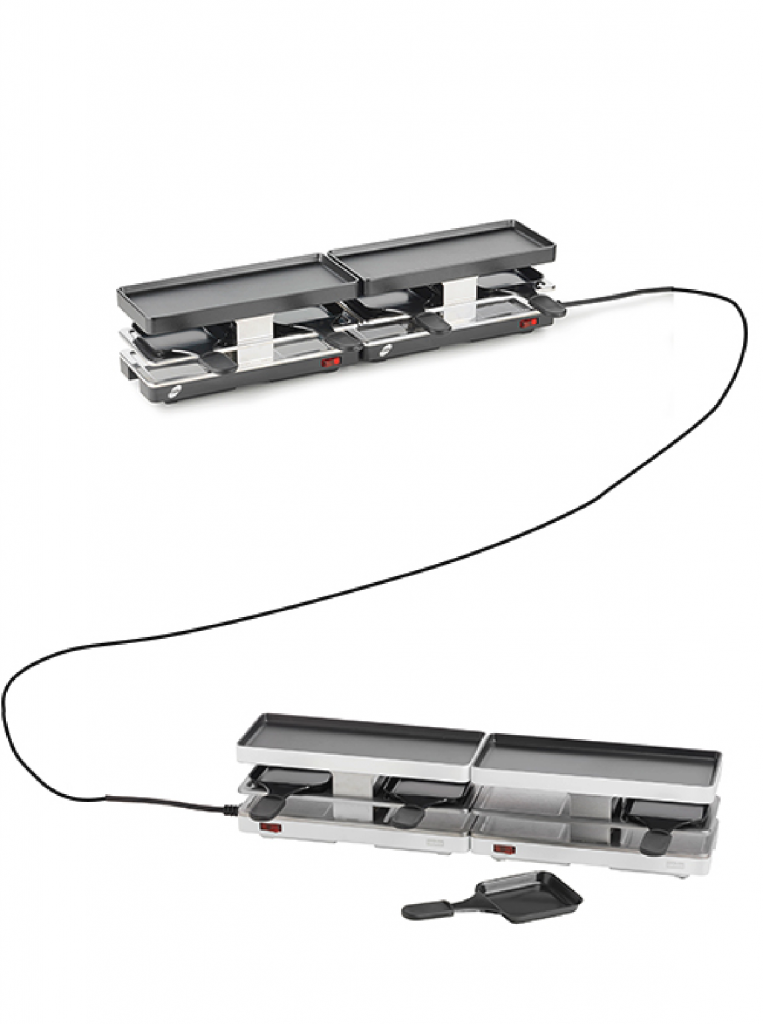 Bring a Swiss feeling into your home
With Stöckli's new scrape-off Raclette grill "Swing", the Swiss family business carries on an old Swiss tradition. Instead of the usual cheese slices warmed in small pans, with "Swing" you melt a cut wheel or loaf of cheese under a heater. The appliance is designed in such a way that every person at the table can enjoy the meal without uncomfortable reaching.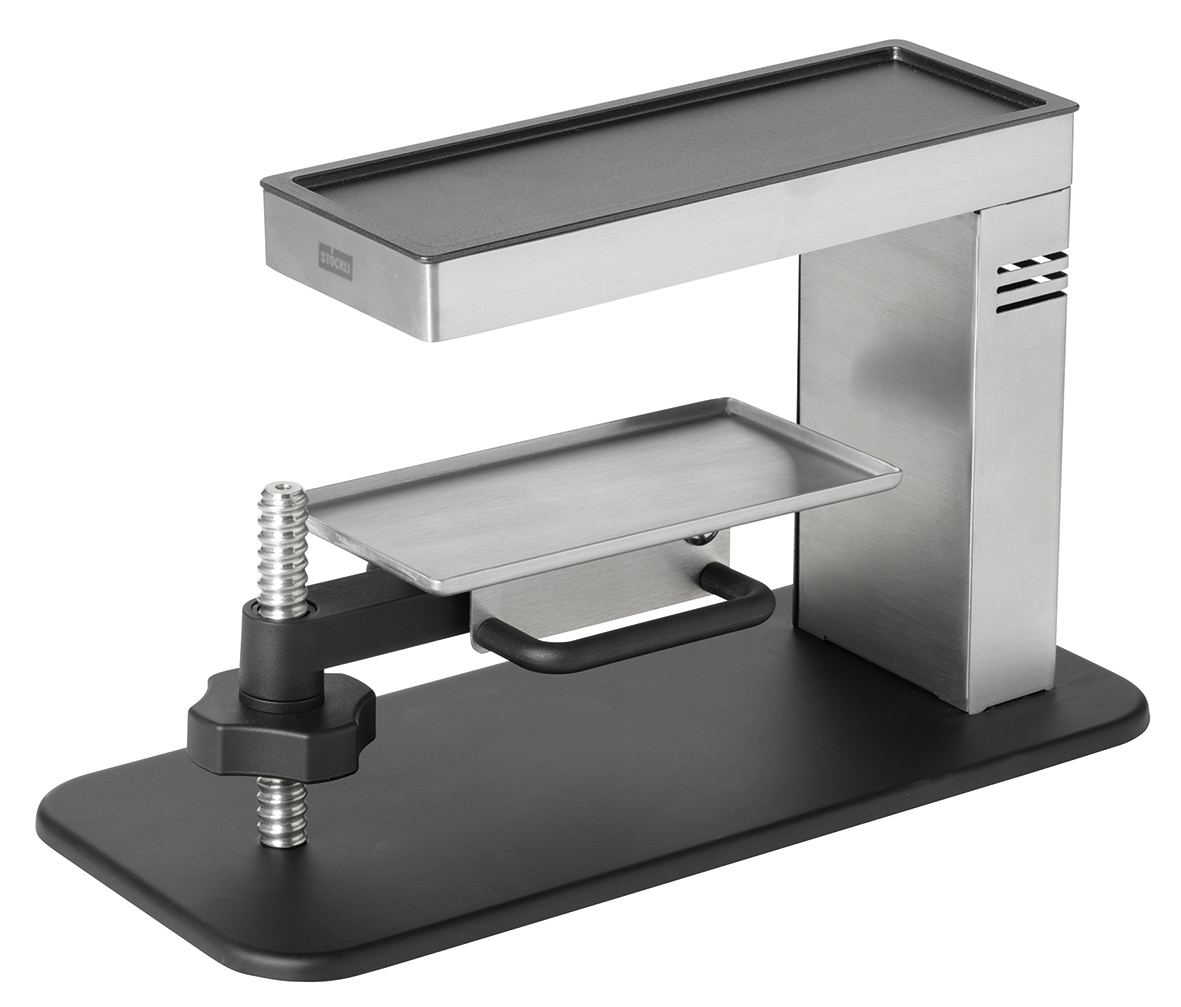 STÖCKLI SWING
with grill plate
CHF
129.00
Top sealing
Since we want you to enjoy 100% of your cheese, our grill plates and Raclette pans feature a special non-stick coating – which means that all the cheese flows onto your plate without leaving anything behind. This way, your meal is an unforgettable experience and cleaning is a piece of cake.
With resting tray
Moreover, the smart Raclette grill comes with another feature that your guests are sure to appreciate. Anyone who feels like taking a break during the meal can conveniently set their pan aside on the resting tray – a convenient feature that your guest will
make good use of.