Chocolate or cheese?
With this chocolate-cheese set with Swarovski fondue forks, the choice is yours – the set is perfect either way.
CHF 69.-
instead of 105.-
Unforgettable fondue with Stöckli
Enjoy a fondue at a beautifully laid table. Here you will find fondue sets for cheese, fondue chinoise or beef bourguignonne fondues. Furthermore, the set comes in different sizes and materials, as well as caquelons that can be used on induction cookers. Experience the pure joy of fine dining and a lust for life through appropriate place settings, plates, forks and other chic accessories. In short, try it yourself!
For young and old
Whether for a date with your sweetie, with friends or with the whole family, fondue is always a joy! Cheese, fondue chinoise or beef bourguignonne fondue has become a tradition in every gourmet household. Moreover, the easy preparation ensures an evening that won't be forgotten in a hurry.
Have fun with fondue
Stöckli and fondue have a long history together. Either traditionally with cheese, or as fondue chinoise or beef bourguignonne, the choice is yours when it comes to fondue. Caquelons made of ceramic, cast iron, steel-enamel or stainless steel – it is a matter of personal taste. Your fondue will be unforgettable no matter which set you choose.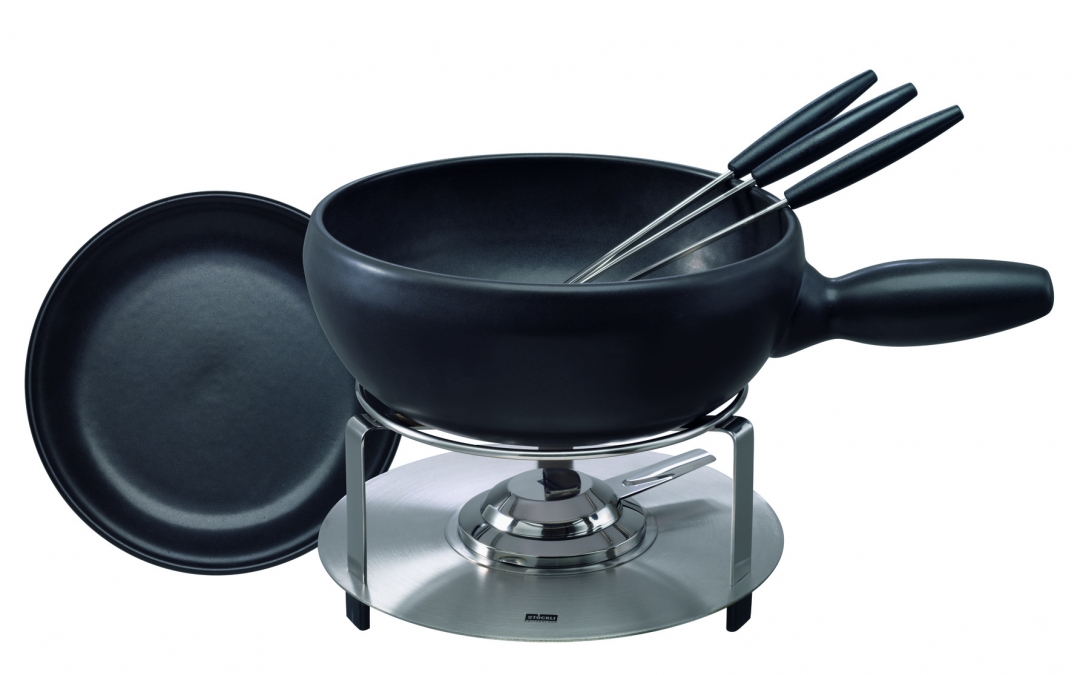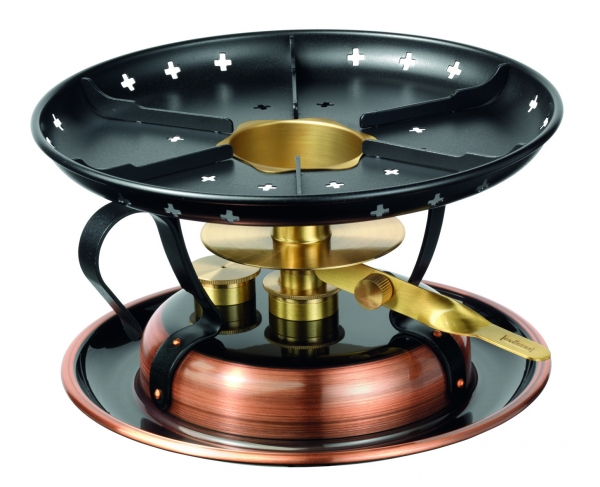 The original
Celebrate the nostalgic cheese fondue
with the Classic Rechaud of Stöckli:
the classic rechaud with methylated spirits
provides an adjustable wick burner and a large tank.
Thanks to the wind shield, you can also enjoy
your fondue outdoors. Available separately.
Aragon cheese fondue promotion!
Aragon cheese fondue sets on special!
Only for a short time!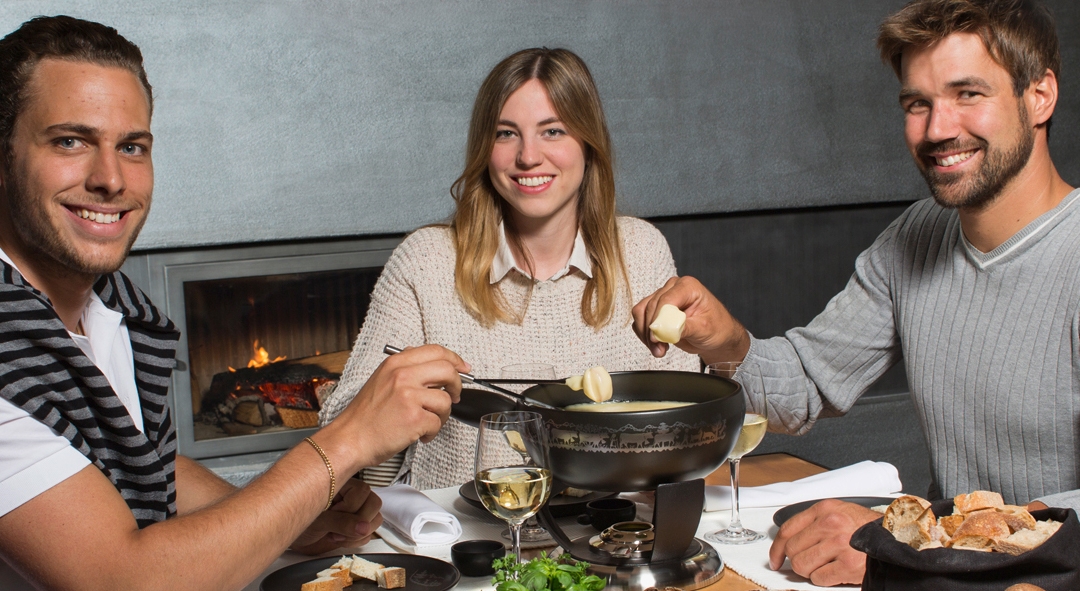 «Lädeli zur Schererei»
Did you know what a "Lädeli zur Schererei" (paper cutting boutique) offers? What is a Schererei? We will solve the riddle for you. There are some people who love cutting paper silhouettes. Jolanda Brändle from Mosnang is one of them, having dedicated herself to this art with all her "heart and soul". Stöckli asked her to design an Ascent to the mountain motif to decorate our fondue caquelon, as well as six decorative themes for the plates. Jolanda Brändle conjures up filigree silhouettes by hand, genuine works of art that tell their own stories. It's a very special art and represents craftsmanship at its best!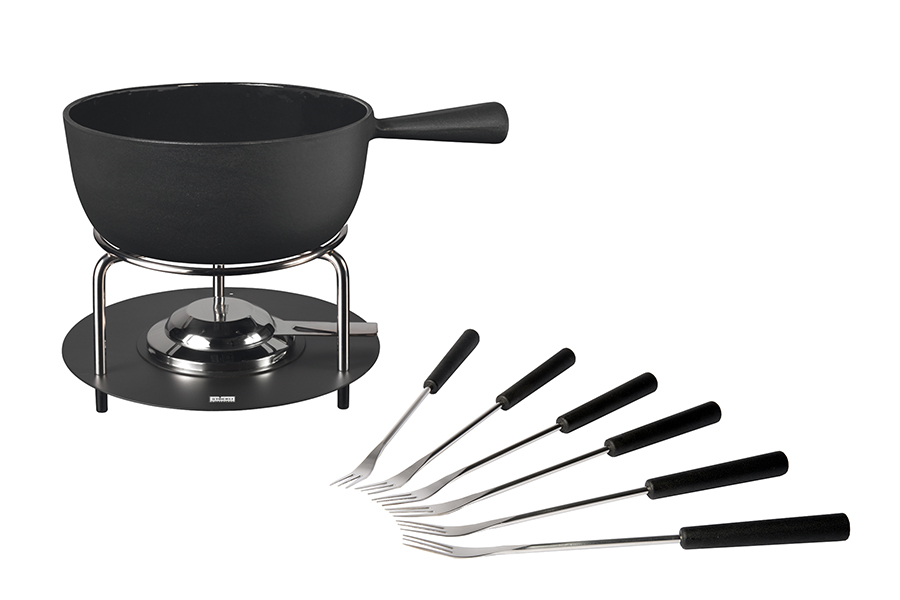 Aragon cheese fondue set
with heater
CHF 99.90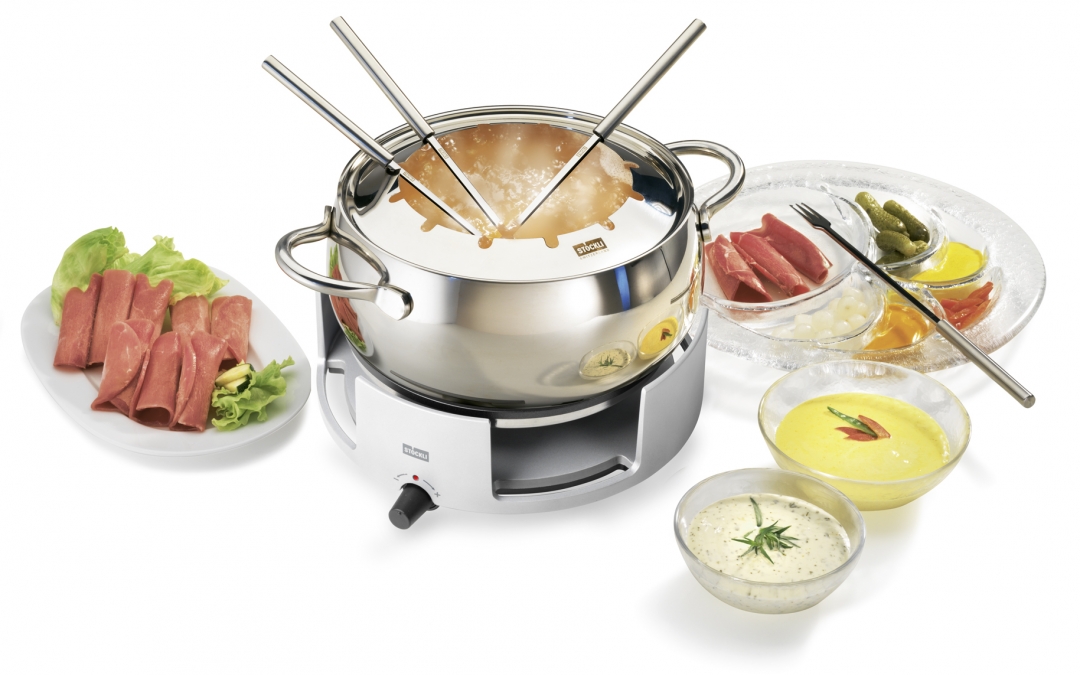 Elegant electric rechaud
The fondue chinoise is a traditional Christmas dish in Switzerland, forming an integral part of  Christmas for many families and couples.
What more could you want for Christmas than to spend time together at home, particularly when the world outside is covered in snow or obscured by thick clouds of fog?
This delicious fondue is easy to prepare for any amount of hunger.
Fondue sieve
The sieve is a must for lovers of Asian food.
Also available with a lid.